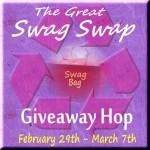 Welcome to
The Great Swag Swap Giveaway Hop
hosted by
Gypsy Mama Logs
and
Mama goes BAM
. This is a special event to thank you our readers, this is your 2nd chance to get your hands on some of the best swag from some of your favorite bloggers. For now, save the date and come back at
12:01 AM February 29
for a list of all the participating bloggers. In the meantime, follow me on Facebook or Twitter to be one of the first to know when the linky for the
Great Swag Swap Hop
is live.
Bloggers: Submissions are open!
One woman's unwanted goods are another woman's treasure.
Are your floors, shelves and tabletops filling up with swag from giveaways past? Are your kids drowning in unopened toys and clothes. Has your husband said, "Honey, i love these but do we really need 3!" If so, why not give it away to someone who wants it and can make use of it.
This is a win-win situation! The Great Swag Swap Giveaway Hop is a FREE event. Think of it as an early spring clean that will also bring traffic to your site.
Blogger Requirements
1. Setup at least one giveaway with no minimum value but must be specifically for this hop. Start and end dates and time are the same as the hop (starting Wednesday, February 29 at 12:01AM EST and ending at 11:59PM EST on Wednesday, March 7).
2. No sponsor required as the giveaway should be for items already in your possession. Any service, product or gift card leftover from a past giveaway or review is acceptable for this giveaway hop.
3. All giveaways should clearly state the condition of the item (i.e. pre loved, in good condition, slightly used, stained, like new, excellent condition, slightly damaged, etc) as well as a disclaimer that the items will be sent "as is".
4. You must include a recent photo of the item in your giveaway post. Recent means photo was taken between now and when you create your post for this event. Try to include photos of any damage and or wear and tear if applicable.
5. Accurately describe any wear and tear in your giveaway post.
6. Each individual blogger is responsible for sending the prize to their winner.
7. You will be required to post the hop participant linky on your giveaway post. If your post and linky are not live by 9AM on February 29, your link will be marked with NO GIVEAWAY. If it is still not rectified by noon on February 29, you will be removed from the linky. You will be added back on after that time only at the discretion of the hosts.
8. Though it is not mandatory, please put the event badge either in your sidebar or on a dedicated giveaway page of your blog, this will help spread the word about the event and help us all in the long run.
9. Have fun with your prizes and their descriptions. Remember, someone entrusted you with their product once upon a time so be kind in your recycling giveaway post – make it funny or even use it as an opportunity to give a favorite sponsor an extra kudos.
10. That's it! If you are ready to sign up, add your blog name to the linky below. Make sure the email you use is checked often as this is how the hosts will be getting in touch with you. There will be NO Facebook group for this event, so our only form of communication will be email to the address used in the linky.
Sign ups close Monday, February 27 at 10PM. If you have any questions, please email mamagoesbam (at) gmail (dot) com for further information.
Don't forget to grab the button for your blog!