Cute-Ecakes
and
Moms with Voices Media
are hosting a Grand Event! (Yes- $1000.00)
With a goal of 100 bloggers, we are going to make this thing huge!!
The Grand Event Cash Giveaway will run from Saturday, March 17th (12:00AM) to  Saturday, March 31st (11:59PM).


The Grand Event Grand Prize




The GOAL for this event is a $1000 prize
The actual prize will depend upon participation!
Grand Prize amount will be announced on 2/8!!

For an added incentive to spread the word, we've added a blogger prize! There are TONS of ways to enter, and I've tried to make it as easy for you as possible!



ONE WINNER- will receive $50 Paypal Cash

ONE WINNER- will participate in the event for FREE!



Find out complete details and sign up

HERE

!!



---
The Spring Buzz Giveaway Hop
Set To Go Spring Buzz Giveaway Hop
will begin at 12:01 AM EST on
Cost is:
Post about the event and put that link in the form when signing up
The Spring Buzz Giveaway Hop is scheduled for March 21st – 27th and sign ups are now open! The event is being sponsored by BeeSavy for the grand prize and blogger referral prizes.
To be eligible for the referral bonuses, you'll need to be signed up for
BeeSavy
. If you sign up, please sat that
FORMULA MOM
sent you! Please note that you will be required to host your own giveaway during the event that is valued at $25 or more for each winner.
The fee to participate is $5
OR
you can make a post in your own words
about the hop linking back to this post to waive the fee.
If you choose to pay the fee, send $5 as a gift to jennifer@sweeptight.com
---
Rockin Birthday Bash
April 1st
This event will start at 12:00 AM EST on April 1st and run thru 11:59 PM EST on April 9th!
The minimum prize amount will be (you guessed it) $30.00!
There will be no fee to join this event!!!
There are a few rules if you'd like to be part of this giveaway (sign-ups will end March 1st, so we can prepare for this grand event)!
Please have a prize of at least $30.00 and you are more than welcome to self sponsor (please disclose that in the giveaway post)

Please join our Facebook group after linking up HERE

Please look for emails from dcheartgirl (at) yahoo (dot) com with the button information, and post the button no later than Feb. 15th

I would like you to do a pre-post about this giveaway no later than March 25th!!

I would prefer the Giveaway Hop to be a "Sticky" Post!!

Send your email to the winners on April 11th (My Birthday)

so that everyone can celebrate with me
No Fee to Join
$30.00 Prize
Signup Form
---
You must host a giveaway on your site, you are responsible for obtaining a prize for giveaway and taking care of the shipping charges.

You must giveaway something a reader, author or blogger would enjoy.

Your giveaway post must include the hop image & linky (or links to the host's sites if you can't get the linky to work).

Please only 1 mandatory entry - all others must be optional - Keep It Simple! No long lists of things for people to do.

Your post must be live by 12:01 EST on April 6th.

The giveaway must be specifically for this hop.

Your site must be family friendly - no erotica or 18+ sites.
---
April 16 - 30
April Showers is a Giveaway Hop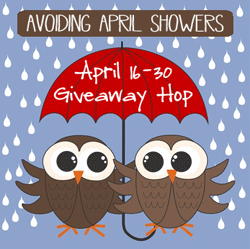 April 16 - 30.
SIGN UP FORM
RULES:
Avoiding April Showers is a Giveaway Hop being hosted by Put A Little Umbrella In Your Drink, Seeds of Life and Taking Time for Mommy, and And The Little Ones Too. It runs from April 16 - 30.
---
---
---