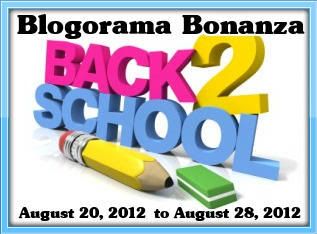 #Blogorama Bonanza
Welcome to Blogorama Bonanza Back 2 School 2012 Event. The Blogorama
Bonanza was started to get readers familiar to you, companies, making friends, find
out about blogs, gain followers and win awesome prizes.
The Event Starts August 20th at Midnight
Ends August 27, 2012 at 11:59 PM EST Time.
It's hosted by
Blogorama Bonanza Back 2 School 2012 Event is brought to you by
Jyla's Three Of Us Giveaway

,
Ice Fairys Treasure Chest

&

Mommies Point of View
.
Oh! My Heartsie Prize Will Be $25.00
Paypal Cash For This Giveaway To Your
PayPal Account. I feel that you are a better judge
of what you need for your family.
Oh! My Heartsie: $25.00 PayPal Cash Giveaway~ Blogarama Back To School Starts 8/20... ohmyheartsie.blogspot.com/2012/08/2500-p…
— Karren Haller (@MYLLLS) August 17, 2012
Sign Up For The Next Event
Free Link
a Rafflecopter giveaway