Join us today and link up your Wordless Posts we would love to
see those pics and your blog special blog posts you would like to share.
Happy New Year!! I Wish You All The Best in 2013!!
Comments Are Very Much Appreciated, I will do the same please
ت
Digger is suppose to be hosting but we caught him taking
the day off from box inspector and host, but we welcome you to share your latest
post and visit with some other great blogs.
And I am linking to Wordless Wednesday with Create With Joy!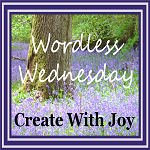 So after you add you link you can Visit These Other Great
Wordless Wednesday With Linkys
✤
January Bloggers Wanted
✤
Please let them know Karren Haller sent you please :)
Even More Below