I am linking to Create With Joy this week to bring you "Wordless Wednesday" we would love to see those pics and your blog special blog posts you would like to share. We all love comments and are Very Much Appreciated, I will do the same please:)
"You've gotta dance like there's nobody watching,
Love like you'll never be hurt,
Sing like there's nobody listening,
And live like it's heaven on earth."
―
William W. Purkey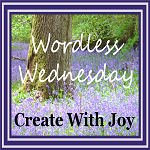 To participate link directly to the post you would like to share and then
visit the others
in the linky to find new bloggy friends.
To spread the word about party you
can grab the linky and write your post.
And it would e awesome if you would share this post t
o your favorite social
media to tell the bloggy universe about our weekly party.
THE BELOW LINKY IS FROM LAST WEEK, WE WELCOME YOU TO VISIT SOME OF THESE BLOGS TOO